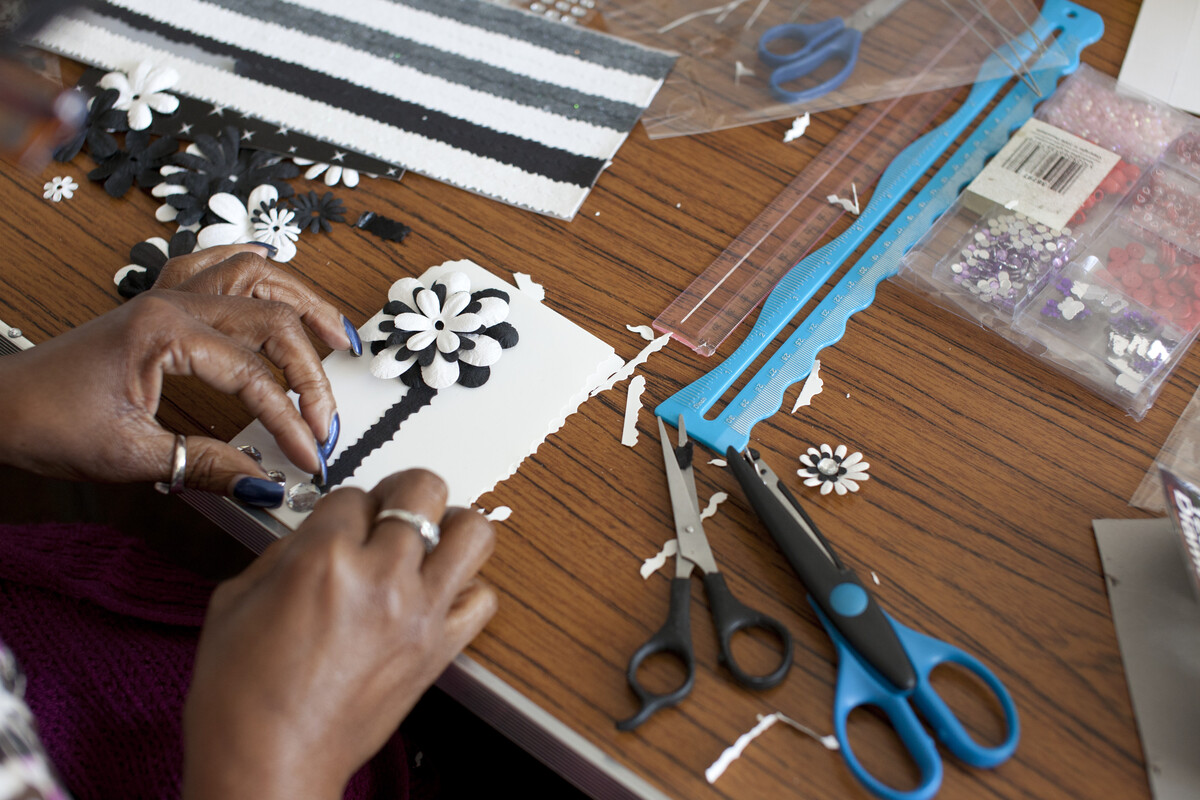 Charity crafting for Macmillan
Put your creativity to good use and make, paint, stir, or sew for Macmillan by fundraising through homemade crafts.
Whether it's carefully crafted Christmas, Eid or Diwali gifts, delicious kitchen creations, or hand-painted kitchenware, selling homemade items is a fantastic way to raise money.
Craft ideas
Hand-stitched masks
Masks are an easy craft to make, and popular to buy. They can be patterned, themed or you can have one for every day of the week.
Homemade jewellery
Homemade bracelets, necklaces and earrings make the perfect gift, and are very popular at fundraising craft sales. If you're an expert in jewellery making, why not host a class? Get people together either virtually or as a small group, share your skills with friends and family, and ask for a donation to Macmillan.
Knitted/crocheted toys
Teddies, Easter chicks, simple items of clothing and blankets are all beautiful and popular items to make and sell.
Gift hampers
You can fill these with homemade crafts or even ask local businesses to donate items.
Bath products
From homemade soaps to candles, bath products always go down a treat at craft fairs or workshops.
Jams, chutneys and preserves
Got a glut of fruit? Why not make a big batch of jam or chutney to safely sell to friends and neighbours?
Hand-sewn accessories
Think personalised tote bags, cushions, lavender bags, and much more.
Fundraising from your crafts
Producing handmade crafts is a challenge in itself, but the hard work doesn't end there. You also need to turn your crafts into donations for Macmillan. You can choose to sell the crafts you make, or share your crafting skills by hosting a workshop to teach others how to make your chosen craft. For either of these options, the first step is to set up an online giving page to easily collect donations.
Selling your crafts
Keep it simple and after making your crafts, safely sell them to your friends, family and wider network.
Get some good photos: once you have made your crafts, make sure you take lots of good quality photos of your goods.

Advertising your crafts: use social media, group chats or even online market websites to advertise the sale of your items and ask people to make a suggested donation through your JustGiving page. Then either arrange safe delivery or collection – whichever you feel most comfortable with.

Reach out locally: if you want to reach a wider network, see if you can share on some local group pages too to help spread the word.

Find a craft fair or market: Look online to see if there are any craft fairs or markets coming up in your area. These can be great places to sell your creations for Macmillan, and you may get a charity discount if you book a stall at a fair or market.
Hold a craft workshop
If you would like to share your crafting techniques with the world by hosting a workshop (or finding a friend/local expert to host one for you) then this is the fundraising activity for you.
You can hold your workshop remotely via online video or in a socially distanced way, depending on how many people you would like to invite and what works for you.
Organise your workshop: all you need to do is decide which craft you (or your expert) will demonstrate, pick a date and time and then invite friends, family or colleagues to join you in return for a suggested donation to Macmillan.

Get your materials sorted: if you would like workshop attendees to join in and make the crafts along with you during the workshop then just let them know what materials they need to buy/bring.

Ways to boost your fundraising: if you are looking at ways to raise further funds at your workshop then why not also hold a prize draw or tombola at your event?
Encourage your guests to make more crafts after your workshop and sell them to raise funds for Macmillan too!