Grab your clubs and tee off for Macmillan.
Take on a solo challenge, team up with friends, organise your own tournament or find out more about Macmillan's Longest Day Golf Challenge.

A golf challenge for Macmillan is a fantastic way to keep healthy, enjoy the great outdoors, and support people living cancer.
How do charity golf days work?
A charity golf day is a great fundraising activity which lots of people can be involved in, all supporting a good cause. Whether you're looking to host an annual tournament or get involved in a very long day out on the golf course, we have lots of tips and advice to help you tee off without a hitch.
Macmillan's Longest Day Golf Challenge
Take on a golfing marathon
If you want to take your fundraising to the next level and prefer your charity golf days to take ALL day, then why not sign up to our Longest Day Golf Challenge.

Grab your clubs and take on 72 holes in a single day at your favourite golf course to raise vital funds for people living with cancer.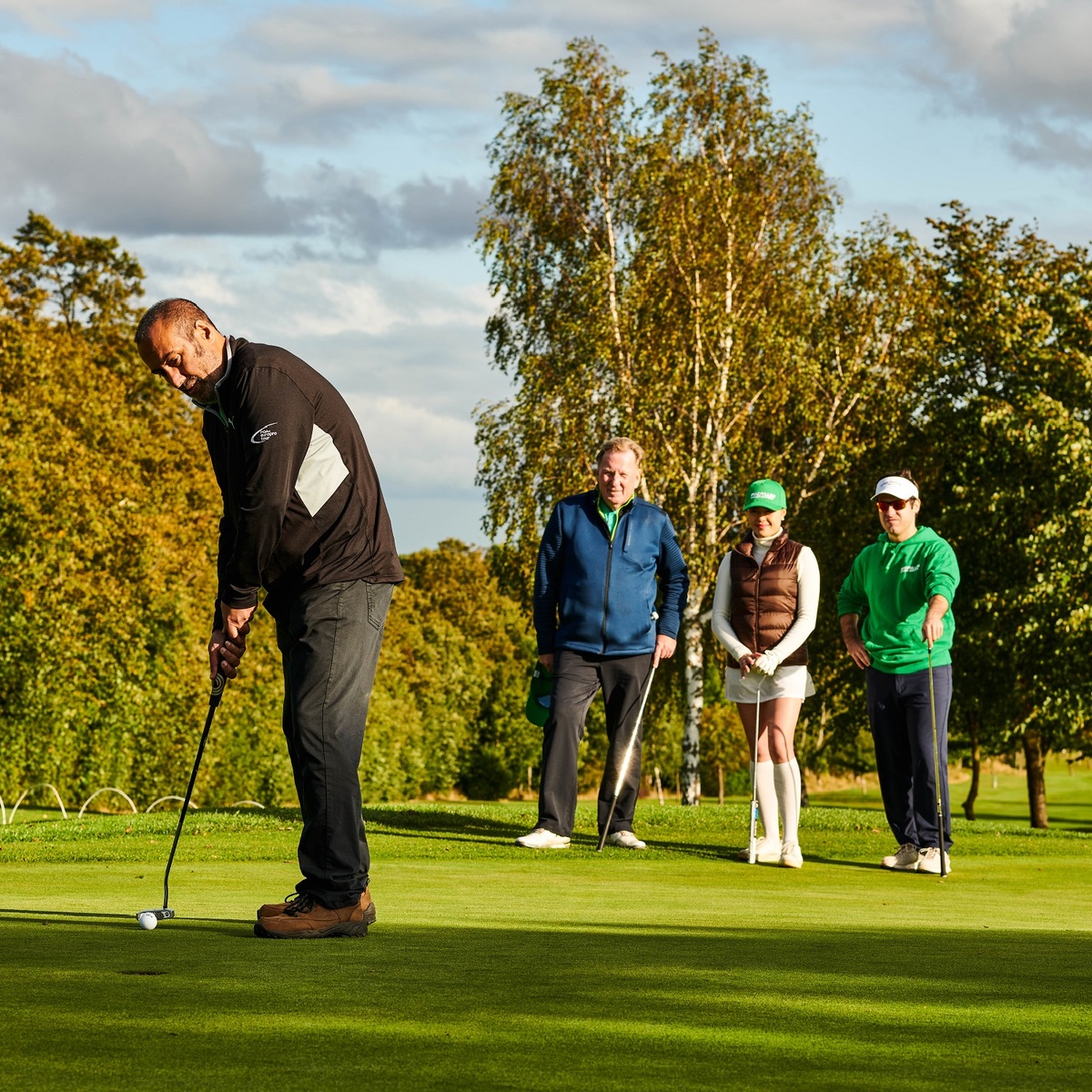 Organising your own charity golf tournament
You might choose to spend a little bit of money marketing your fundraiser, but your best option is to use your own connections to spread the message through word of mouth. With the help of social media and your LinkedIn network, you should easily be able to get the amount of players you want signed up to your event.

Also, make sure to use those connections to speak to local businesses who might be willing to help with potential partnerships and sponsorship opportunities for the event.
What are the costs involved in organising golf events?
The golf course and clubhouse
It will be pretty hard to half a golf day without a golf course, and it's likely to be your biggest cost. Finding the right course, or even multiple courses at one club if you're expecting a large number of golfers, is key. You'll want to consider the abilities of the people who will be playing to make sure everyone has a great day. Keen golfers are more likely to pay a premium to play on a championship course, while amateur golfers will probably favour a less challenging day.
Catering
Depending on the size and duration of your event you'll need to decide whether you want to just provide light snacks for breakfast or a three-course meal in the evening. You could help keep costs down by getting local catering businesses to sponsor your event and provide the food.
How to make money from a charity golf day
Ticket sales
Organising a golf day can be expensive if you don't plan carefully. While sponsorship can really help cover your costs, you are also going to want to think carefully about ticketing options. You could offer:
Single player tickets
Fourball tickets - you could offer a discount to make sure you get enough numbers
Exclusive tickets, where people pay a bit extra for food and drink to be included.
Raffle / auction
Your personal connections can really help you fundraise as much as possible. The bigger the donations, the more you can charge for raffle tickets, or expect to make during a silent auction.
Penalty drop shots
Why not get creative out on the course as well. Depending on player's golfing handicaps, you could set a cash penalty for every bogey scored, or every shot over par for the whole round. That way, even if you have your worst ever round, at least you will know you're making an even bigger difference.

Put a drive straight into the water? Why not offer a mulligan or 2 per golfer - for a price of course!
Prize Giving
It's not only bad golf that should be applauded and rewarded, though! Everyone loves a bit of competition, such as a few side games during a round. You could get people to pay a bit extra for a chance to win some prizes. Side games could include the longest drive of the day, the one closest to the pin on a certain hole, and of course the magical hole in one!
Showing your support on the golf course
Letting us know about your event
Find out more information about setting up and registering your charity sports tournament with Macmillan.