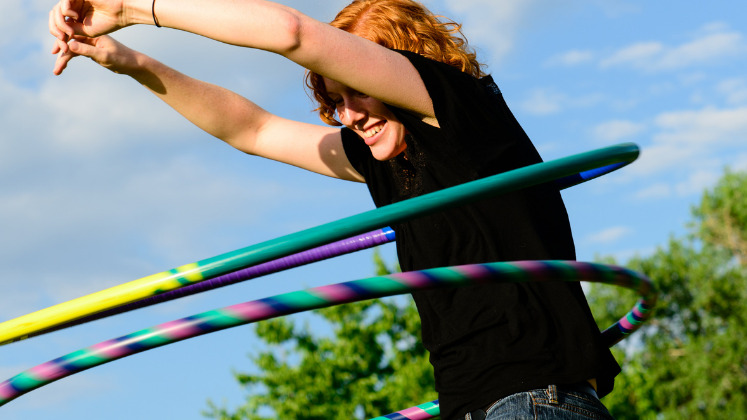 How long can you hula hoop for? Pick up a hoop (or 2 or 3…) and join Macmillan Cancer Support in our Hula Hoop in July Challenge. Whether you're picking it up as a new hobby or for fitness, take part in our challenge to hula hoop 15 minutes a day through the month of July.
About the event
Looking for a challenge that they whole family can get involved in? Join our Hula Hoop in July challenge and commit yourself to hula hooping 15 minutes a day to support people living with cancer.
Whether you want to learn some fun tricks to show off to friends and family or looking to pick up a new fitness hobby – hula hooping is the activity to try this summer!
How to enter
We recommend setting your fundraising pledge at £150, but the goal is to raise what you can!
It's as easy as…
Not on Facebook? No problem
If you're not on Facebook and would like to take part don't worry. Just email us on fundraising@macmillan.org.uk and we'll help.

Why should I join Team Macmillan?
By registering in the Facebook group following the steps above you'll receive:
A free Macmillan T-shirt
Access to our friendly Facebook group and your fellow challengers
Fundraising support and weekly updates to help you ace your challenge!
Most importantly we'll provide you with a reason to keep going because you'll know that you're helping improve the lives of people living with cancer. Donations make up 98% of our annual income so we simply couldn't do what we do without you.

By taking part in this challenge, you accept that you must, as least, be at a basic level of fitness in order to participate. You also must be over the age of 18 to take part.
FAQs
What is 'Macmillan's Hula Hoop in July Challenge'?

The challenge is to complete 15 minutes of hula hooping a day. Learn some tricks with your family or use this challenge to improve your fitness. The challenge will help to raise vital funds for Macmillan.

Can I complete the challenge at my own pace during the month?

You can choose whatever time of the day to complete this challenge. You may also hula hoop for longer one day if you accidentally miss a day.

I don't have Facebook, can I still take part?

Unfortunately, this challenge is designed to take place on Facebook. If you would still like to take part, get in touch to let us know.

You can set up a JustGiving page.

How do I order a T-shirt?

If my family can get involved, can I get a top for my kids?

Unfortunately, we are currently out of stock of children top sizes, although these will be made available on the Macmillan Shop in mid-July.

You can always order an adult's top in an XS or something else from the Macmillan shop.

How much of the donations go directly to Macmillan?

100% of the donations from your Facebook Donate page will come directly to Macmillan.
Ready to join?
By joining us you'll know that you're helping improve the lives of people living with cancer in the UK today.
you might also find useful