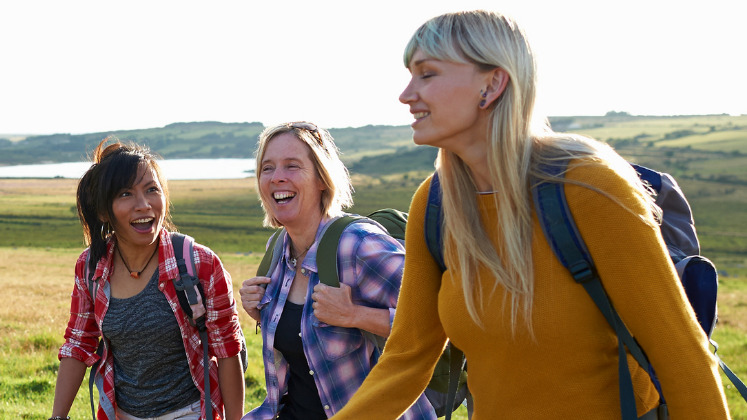 10k Steps in June With Macmillan
Join Macmillan in walking 10,000 steps every day this June. Take advantage of the warmer weather and get out every day, completing your 10,000 daily steps and keeping active this summer.
About the event
Challenge yourself to complete 10,000 steps a day this June. Lace up your trainers and swap a journey in the car or public transport for a walk instead. This challenge is aimed at people of all fitness levels, encouraging people to get out and about this summer.
Schedule a coffee walk with your friend in your local park or take your dog out for a walk by the beach; there are so many ways to complete this challenge!
How to enter
We recommend setting your fundraising pledge at £150, but the goal is to raise what you can!
It's as easy as…
Not on Facebook? No problem
If you're not on Facebook and would like to take part don't worry. Just email us on fundraising@macmillan.org.uk and we'll help.

Why should I join Team Macmillan?
By registering in the Facebook group following the steps above you'll receive:
A free Macmillan t shirt
Access to our friendly Facebook group and your fellow challengers
Fundraising support and weekly updates to help you ace your challenge!
Most importantly we'll provide you with a reason to keep going because you'll know that you're helping improve the lives of people living with cancer. Donations make up 98% of our annual income so we simply couldn't do what we do without you.

By taking part in this challenge, you accept that you must, as least, be at a basic level of fitness in order to participate. You also must be over the age of 18 to take part.
FAQs
What is 'Macmillan's 10,000 steps a day in June Challenge'?

The challenge is to walk 10,000 steps a day throughout the month of June. The challenge will help to raise vital funds for Macmillan.

Can I complete the steps at my own pace during the month of the challenge?

The challenge is walk 10,000 steps every day during the month of June, so you can choose whatever time of the day to complete this challenge. You may also walk extra one day if you have some steps to catch up on.

Can I start the challenge late or early? What if I miss a day?

We will be encouraging everyone to start their challenge on 1 June and continue throughout the month. However, if you are joining the challenge later or you have missed a few days, you can continue into July or make up the difference with extra steps throughout June.

How can I keep track of the number of steps I am doing each day?

Most phones have an already installed health/pedometer app, but you can also download one via your app store. Devices such as Fitbits also have these functions. We will also share a daily tracker for you to mark each day as you complete your steps.

What level of fitness do I need to have?

This challenge is aimed to be accessible to everyone. We want to encourage participants to get out and about during the summer months and change aspects of their routine like swapping taking the bus or car somewhere and walking instead.

How do I order a t-shirt?
Ready to join?
By joining us you'll know that you're helping improve the lives of people living with cancer in the UK today.
you might also find useful