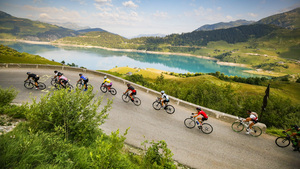 About The Event
The 30th edition of L'Étape du Tour de France will take place on 10 July 2022 on the same route as stage 12 of the Tour de France, between Briançon and Alpe d'Huez. The route is 170 km with more than 4,700 metres of accumulated positive elevation gain, including the climbs of the Cols du Galibier and de la Croix de Fer.
View a 3D video of the 2022 route.

Find out more about the ride on the organisers website.
How to enter the L'Étape du Tour de France
Take on this epic cycle with Team Macmillan. Secure your place today and take on the famous Alpine climbs.

Registration fee: £75 (non-refundable)

Sponsorship pledge: £650
General entry is sold out - our Macmillan charity places are now the only way to take part this year!

The registration fee is payable to Macmillan Cancer Support Trading Limited which is wholly owned subsidiary of Macmillan Cancer Support. Macmillan Cancer Support Trading Limited donates 100% of its profits to Macmillan Cancer Support each year.
'It is so rewarding – raising money for such a worthwhile cause.' - Liz, Team Macmillan cyclist
Why should I join Team Macmillan?
Ride with Team Macmillan and you'll get great benefits, including:
A full fundraising pack and cycling training guide.
A free Team Macmillan cycling jersey (when you reach your fundraising pledge).
Regular e-newsletters to keep you up to date with Team Macmillan and Etape du Tour news.
Most importantly we'll provide you with a reason to keep going because you'll know that you're helping improve the lives of people living with cancer. Donations make up 98% of our annual income so we simply couldn't do what we do without you
Places are limited so secure your place today!
Read the full terms and conditions here.
For more information on the challenge, the route, FAQ's and much more – please visit the official L'Etape du Tour de France website.
Event Accessibility
For questions regarding accessibility at this event please contact the event organisers.
Ready to join?
By joining us you'll know that you're helping improve the lives of people living with cancer in the UK today.
Volunteering
We need an army of cheerers to make this event special. If running is not your thing or you have any family and friends who'd like to come and support you on the day, we'd love them to join our volunteer team!