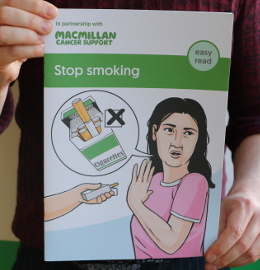 Stay healthy - Stop smoking - easy read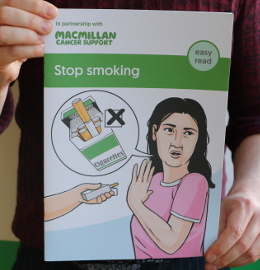 This booklet is about smoking.

View online
You can also order a physical copy of this easy read booklet on
be.macmillan.org.uk
with ID: MAC16340
This booklet is about smoking.

About this easy read booklet
An easy read booklet about how to reduce your risk of cancer. This booklet talks about smoking and tips for stopping. Our easy read booklets use simple language and pictures to tell you about cancer.
Macmillan Cancer Support Line
The Macmillan Support Line offers confidential support to people living with cancer and their loved ones. If you need to talk, we'll listen.